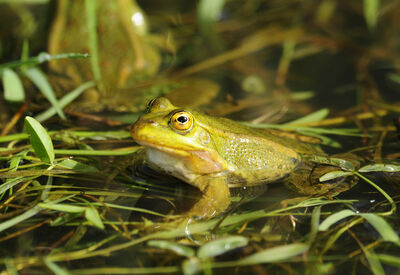 Newts & Frogs can make great pets, they are easy to care for and do not need much maintenance, but how do you find Newts & Frogs in the wild?
NOTE: THE SAME STEPS CAN BE USED TO JUST FIND THE ANIMAL AND THEN RELEASE IT!
Firstly, wait until the late summer time, as this is your best time of finding small frogs that have recently turned from Tadpoles to frogs.
Make sure you know for sure which type of frog/newt you want to keep, this will give you a better idea of where to look, if your newt/frog likes to be on land, you will often find them on the damp banks of a lake, or if they are aquatic, they will be in the lake itself. 
If you can access the lake easily, and it is shallow enough, try moving the rocks on the lake-bed, this is where Amphibians like to hide, try to do this slowly so they don't swim away, they can be fast. 
When you find your newt try not to handle it for too long, hopefully you have brought a container along to keep the newt while you take it home. 
When you get the newt home, place him in the habitat you hopefully made beforehand when researching. Make sure that some of the habitat you put in the container is literally from the frog/newt's old habitat. Say if the frog/newt lived in a pond, you would put some water and soil from the pond into the container. 
Ponds located in forests will give you more luck.
Frogs can be found on the banks of a pond or stream.
Newts will stay very close to water, because they are mostly aquatic.
If it is night, take a flashlight and look around. Frogs can do a "deer in a headlight" sort of thing.
Community content is available under
CC-BY-SA
unless otherwise noted.