step 1.)Frogs can see their side view as good as in front, so going from behind is the best way to get them. If you are having trouble finding them, try a different spot, or try again later.If they are sitting in the water, it's best to be very quiet because they have good hearing under pressure.If you're catching a frog at night, try spotlighting. Shine a bright light at a frog or toad in the middle of the night. The frog or toad will be like a deer caught in headlights, and will be unable to move, so you can quickly grab it.Trapping method:1)Bring a net, jar, or large tupperware. The wider the mouth, the easier it will be to throw over the frog. However, if you're in an area with lots of rocks or logs, a large object may not fit on the ground where the frog is.2)Creep up from behind the frog. Be as quiet as possible.3)Making as few movements as possible, quickly place the net, jar, or tupperware over the frog.4)Slide a piece of cardboard over the mouth of the jar or tupperware. Then, lift it up to admire your frog. If you're using a net you can grab the frog through the net by its hind legs while you lift up the net.Bare Hands method:1)Corner the frog or toad so it is in an area where it cannot escape. Your approach will scare it and cause it to move, so make sure it will not jump into a bush or through a fence. Corners and open fields are ideal locations.2)Swiftly grab the frog or toad. As long as you are quick you'll have a good chance of catching it. You can use a net or just your bare hands (the latter is usually easier).3)Once you have caught the frog, hold it by the legs and place its arms on your finger. It's difficult for them to jump away this way.4)Finally, you can choose what to do with the frog.You can play with him, and then let him go.If you were looking for a pet, a fish tank with water, plants, dirt, and some rocks is the best way to keep them. (If you want to keep a frog for a long time, small baby frogs are the best.) Alternatively, put the frog or toad into a high container. They can cling onto many surfaces and may "wall jump" out unless you cover it with a breathable lid.
Watch The videos below to Watch a demonstration on how to catch A Frog. PS: If you need any other herping help videos to be added on to this wiki contact me at snakes1000000@hotmail.co.ukEdit
How To Catch A Frog

Edit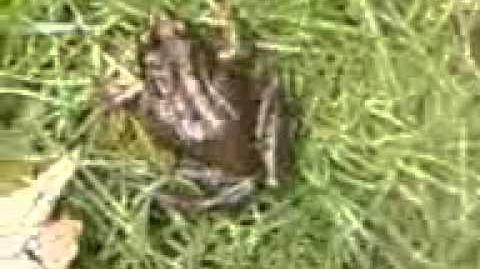 Community content is available under
CC-BY-SA
unless otherwise noted.